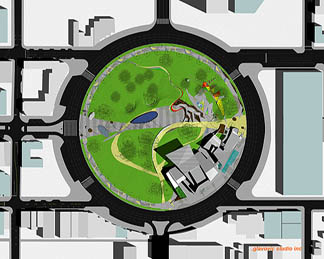 I stumbled onto at least
2 different portayals
of
this park
in the last 2 or 3 days. It is designed by
Glovovic Studio
and sits right in the middle of Route 1 (a long ways down the street from here) in Hollywood, FL. I don't see how LAM will hold off from including this in an issue in the next year or so - it is dynamic, will be home to some exciting activities, and photographs very well.
When I went to drop it on the map I realized that
the Google Map photo
is older than the park (which just opened in March).