Kate John-Alder, Landscape Architect
2009 Rutgers Outstanding Landscape Architecture Alumni of the Year
The Garden and The Greenhouse: The Landscapes of Kevin Roche
Born in Ireland, but practiced and taught in the US.
Came out of a modernist tradition with Saarinen. Saarinen's sudden death lead to the formation of Kevin Roche John Dinkeloo and Associates.
Decent credentials: 1982 Pritzker Prize in 1982, 1993 AIA Gold Medal. (It proves that the AIA is a bit slow)
Great Roche buildings include the
Ford Foundation Building
(finished in 1968), developed with Dan Kiley. Kiley deliberately overplanted the atrium allowing some plants to die, helping identify those plants fittest for the environment. The building was like
Hepburn
and the interior was like
Bardot
. (
Mapped
)
A decade later he completed the design for
John Deere's Headquarters
. (
Mapped
) Roche saw his atrium here as a tribute to the anonymous corporate worker. He isn't tearing down old models or replacing them with new.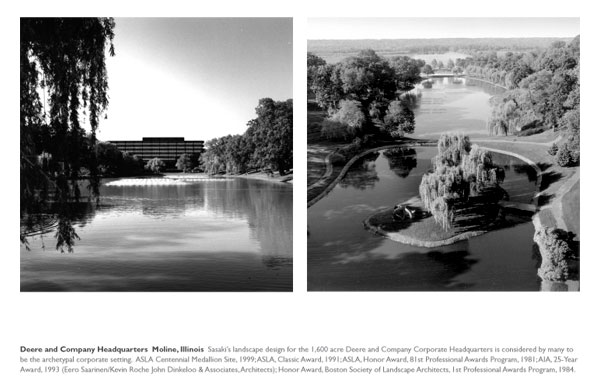 His theories worked to integrate theories and ideas about natural and spiritual processes. His presentation on this worked to integrate nature and architecture. His efforts to connect with firmness, commodity and delight work within this and can be seen in
the IBM Pavilion
. Returning to the simple pleasures of nature, like lounging in the shade of a tree, he was able to embrace timeless values and experiences while utilizing new forms and materials.
As the Oakland Museum (
mapped
) showed, his ideas about green roofs and blurring the indoors/outdoors lines were way ahead of his time. The rooftop is an open environmental capsule. Although the space has changed over time, it sparks imagination and lends to happiness. This worked because he wasn't seeking picturesque facsimiles of nature, but sough a dialogue betwen man and nature. Not that you would know it
from this link
.
Great reference: Robert Smithson's
Frederick Law Olmsted and the Dialectical Landscape
This style of design requires that you take a stance. He took his stance on nature and human action. It goes back to the tree which he saw as an archetype. It was a specific one. In Columbus, IN he related to the landscape of the Miller Garden but forced you to turn your back on the alley of trees in order to experience his special space of enclosed trees.
As a personal note, I have to say that his thinking seems much more consistent with the serious intellectual modernism that I learned from a student of Mies. Contrary to what you've heard, it isn't about harshness or dehumanizing qualities. It was both new and old - but truly modern.